Specially made of alloy and aluminum for the crushing grip is used to crush easily the thickness of reinforced concrete structure (300 mm or below) e.g. wall or slab and the crushing pieces will be removed off the site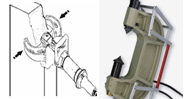 Construction features and scope of work
No dust, no vibration, noiseless and flexible, easily operated, powerful, efficient, lightweight.
Suitably used to apply in the renovation and fitting-out work, basement, tunnel confined space, less space for the working machinery or plant. It is easy to crush the concrete wall, slab, blockwall and equipped with all kinds of accessories to cut the metal, rebar and even the pipe.